So 

what can 

Chkdsk 

do 

and when to use it 

?
Check Disk, also known as chkdsk (which is the command used to run it) scans the entire hard drive to find and fix the problem. It is not an interesting tool because running it can take some time, but it can really help prevent major problems and data loss in the long run. Chkdsk performs several functions, depending on how it runs:
Chkdsk's basic function is to scan the entire file system, file system metadata on the hard drive and fix the logical file system errors it finds. Such errors may include broken entries in the original file table (Master file table - MFT), security descriptor not related to the file, or even timestamp, file size information for individual files .

Chkdsk can also scan every sector on a hard drive searching for 

bad sectors

 . Bad sectors have two forms: bad "soft" sectors, which occur when data is overwritten, and "hard" bad sectors occur due to physical damage on the hard drive. Chkdsk tries to fix these problems by fixing the "soft" bad sectors, and "hard" bad sectors are not reused.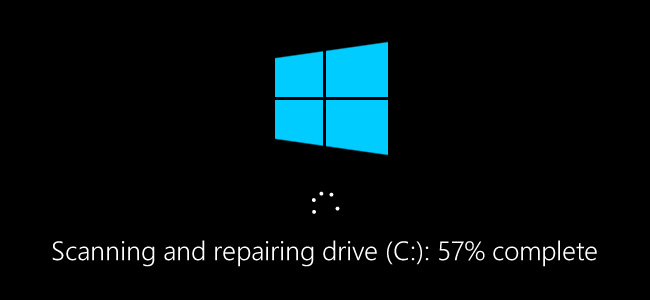 Users should run chkdsk periodically every few months with the use of a SMART tool for drives that support it. Also consider running it at any time when Windows unexpectedly shuts down, such as after a power failure or system crash. Sometimes Windows will automatically run a scan during the boot process, but often users will have to do it themselves. Even if you encounter problems such as not loading the application or being unable to resolve it in another way, users may consider checking the drive.
For example, Outlook suddenly starts having trouble right after loading. After many troubleshooting issues, scanning with chkdsk reveals that there are bad sectors where the Outlook data file is stored. Fortunately, chkdsk was able to recover sectors in this case, and everything returned to normal afterwards.
If chkdsk detects problems, especially hard bad sectors that cannot be repaired, the data may be unusable. Not always, but it can happen. For that reason, you should make sure you always have a backup routine in place and back up your computer before running chkdsk.
The chkdsk tool works quite similarly in all versions of Windows. This article will use Windows 10 , so the screen will be slightly different on Windows 7 , Windows 8 but the same operation. We will point out any different points. The article also mentions running chkdsk from Command Prompt, in case you can't even boot into Windows.
How to use 

Chkdsk 

with 

Command Prompt
If you use the Command Prompt, users will have more control during disk check. In addition, if you are using Windows 8 or 10, this is the only way to automatically scan or scan bad sectors. Open Command Prompt with admin rights by pressing Windows + Xand selecting " Command Prompt (Admin) ". The chkdsk command supports some switch commands, but only two of those commands are / f and / r.
If you only use the chkdsk command, it will scan the drive in read-only mode, report an error but not fix it. For this reason, it usually runs without restarting the computer.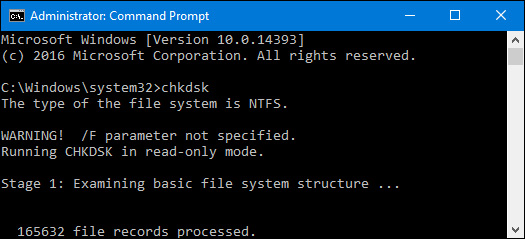 If you want chkdsk to fix the file system error during the scan, add the switch / f command. Note that if the drive has files in use, the user will be prompted to schedule a scan for the next boot.
chkdsk / fc:

If you want to chkdsk scan bad sectors, use the switch / r command. When using the switch / r command, it means that chkdsk will scan both logical and bad sectors. In addition, users can use both switch / r and / f commands at the same time.
chkdsk / rc: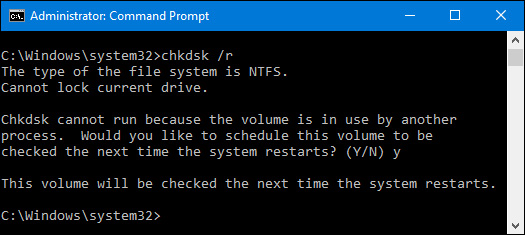 Running chkdsk / r will thoroughly scan a disk partition and if there is time to check the sector, you should run it at least periodically. 
Of course, there are other parameters you can use with chkdsk like:
C:> chkdsk /?

: 

> chkdsk 

/?
Check the drive and display the status report.
CHKDSK [volume [[path] filename]]] [/ F] [/ R] [/ X] [/ I] [/ C] [/ L [: size]] [/ B] 

volume Specifies the , thiết bị (theo sau theo một cơ sở dữ liệu), 

mount point, hoặc volume tên. 

filename FAT / FAT32 only: Specifies the files to check for fragmentation. 

/ F Lỗi fixes trên đĩa. 

/ V On FAT / FAT32: Displays the full path and name of every file 

on the disk. 

On NTFS: Displays cleanup messages if any. 

/ R Locates readable bad sectors and recovers 

(implies / F). 

/ L: only NTFS size: Changes the size file log to the specified number 

of kilobytes. 

Nếu kích cỡ không phải được xác định, 

kích cỡ 

hiện thời 

. 

/ X Forces volume to dismount first if cần.

[ 

volume 

[[ 

path 

] 

filename 

]]] 

[/ 

F 

] 

[/ 

V 

] 

[/ 

R 

] 

[/ 

X 

] 

[/ 

I 

] 

[/ 

C 

] 

[/ 

L 

[: 

size 

]] 

[/ 

B 

] 

Specifies 

the letter drive 

( 

followed 

by 

a colon 

) 

, 

or 

volume name 

. 

/ 

FAT32 only 

: 

Specifies 

the files to check 

for 

fragmentation

        

 
 

. 

/ 

F 

Lỗi fixes 

trên đĩa 

. 

/ 

V 

On 

FAT 

/ 

FAT32 

: 

Displays 

the full path 

and 

name of every file 

. 

On 

NTFS 

: 

Displays 

cleanup messages 

if 

any 

. 

/ 

R 

Locates 

readable 

bad sectors 

and 

recovers 

( 

implies 

/ 

F 

). 

/ 

L 

: 

size NTFS only 

: 

Changes 

the log file size để số đã ghi rõ 

.



 

 


 
 

Nếu 

kích cỡ 

không 

phải 

được xác định 

, 

hiện thời hiển thị 

. 

/ 

X 

Forces 

volume to dismount first 

if 

cần 

. 

All 

opened handles to the volume would 

then 

be invalid 

( 

implies 

/ 

F 

). 

/ 

I NTFS only 

: 

Performs 

a less vigorous check of index entries 

. 

/ 

C NTFS only 

: 

Skips 

checking of cycles within the folder 

. 

/ 

B NTFS only 

: 

Re 

-

 




Có thể 

mở 

các phần bên ngoài, sẽ phải không hợp lệ 

(Implies / F). 

/ I NTFS only: Performs a less vigorous check of index entries. 

/ C NTFS only: Skips checking of cycles within the 

structure 

folder 

. 

/ B NTFS only: Re-evaluates bad clusters on the volume 

          (implies / R)



 
 

 

Evaluates bad clusters on volume 

( 

implies 

/ 

R 

)
/ I or / C reduces the amount of time required to run Chkdsk by skipping some volume checks.
Hopefully, the Chkdsk tool will fix any problems with the hard drive that users may encounter.
How to check or cancel the schedule to run Disk Check
If you are unsure about uploading Disk Check, you can easily check in the Command Prompt . Run Command Prompt with admin rights by clicking Start and typing " command prompt ", right-click on the result and select " Run as administrator ".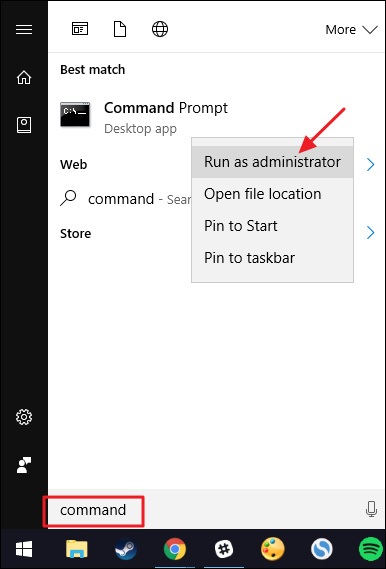 In Command Prompt, type the following command, replacing the drive letter if needed.
chkntfs c:
If you have scheduled a manual check of the drive, there will be a message like the one below: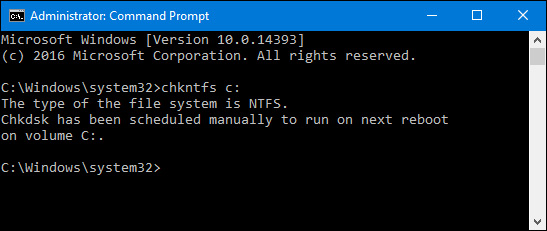 If Windows has scheduled an automatic drive check, users will see a notification that the drive area may be flagged with potential errors. This means Windows will run the test the next time it starts. If there is no automatic scan schedule, you will only see a message indicating a clean drive area.

If Disk Check has been scheduled for the next Windows boot, the user can cancel it by typing the following command:
chkntfs / xc:

The user will not receive any notifications about this cancellation, but this command actually excludes the drive from the chkdsk command for the next boot. If you restart and see the scheduled scan schedule, Windows will give you about ten seconds to cancel if desired.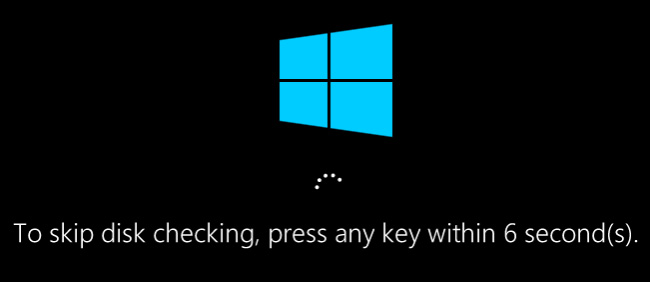 I wish you all success!