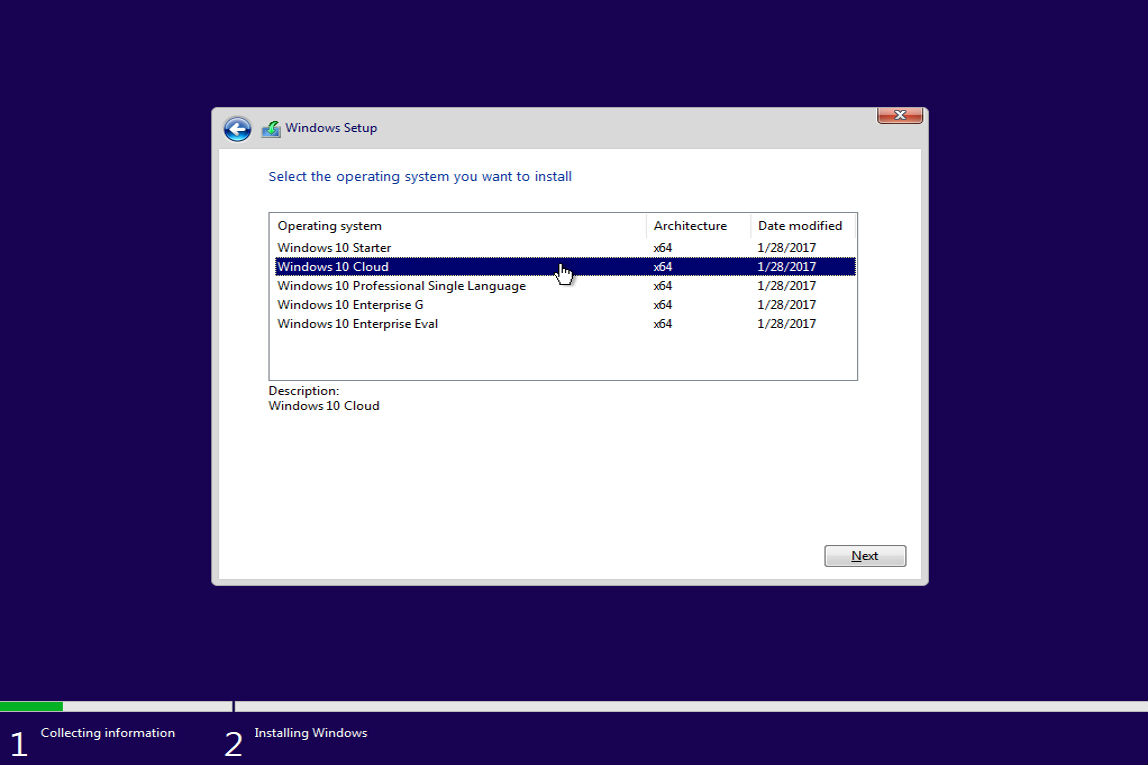 This leaked buid will install Windows 10 Starter, Windows 10 Cloud, Windows 10 Professional Single Language, Windows 10 Enterprise G, or Windows 10 Enterprise Eval.
We choose Windows 10 Cloud, install Build 15025.rs_prerelease.170127-1750 . The build number is located in the bottom right corner of the screen listing platforms like Windows 10 Pro Insider Preview.
The biggest drawback of Windows 10 Cloud is that it forces users to use the Windows Store. This means that users cannot install "traditional" Win32 applications or programs, just like on a Windows 10 computer or laptop. The reason given by Microsoft is to protect users from unwanted malicious programs.
During the installation of a program on Windows 10 Cloud, on the screen you will receive a display error message: " The app you're trying to run isn't designed for version của Windows. làm việc để tạo được bạn và thiết bị của bạn, đang chạy chạy Windows Store apps ". (Temporarily translated: The application you are trying to run is not designed for this version of Windows. This version was created to protect you and the device using applications on the Windows Store)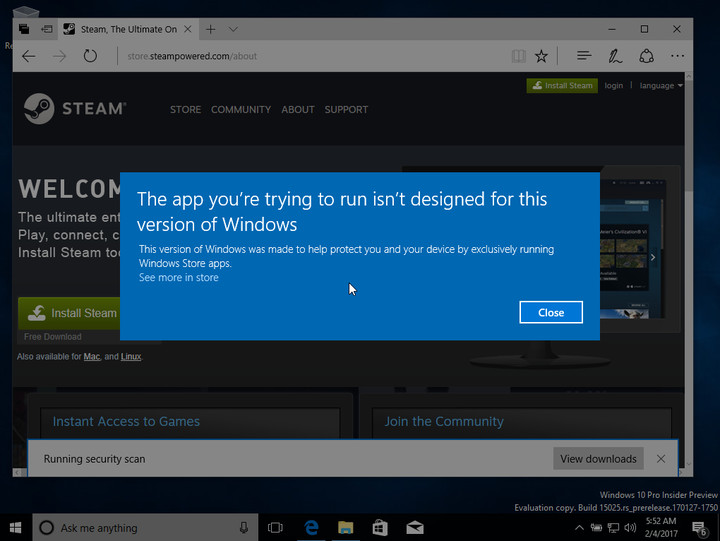 Doesn't seem to have many limitations?
Indeed, during the installation of Steam on Windows 10 Cloud virtual machine, on the screen we received an error message, but before criticizing the developer for this, we need to remember that Windows 10 Cloud can Install the application on the Windows Store. This is the answer to that difference. The Settings app is integrated on this build of Windows 10 slightly different from the current Settings application on Windows 10 Anniversary Update.
The Settings application on this new build of Windows 10 integrates new items like " Apps" and " Games ", while the initial settings are arranged in the System : Apps and features section (applications and features ), Default apps (default apps), Offline maps, and Apps for websites (applications for websites).
So when users access Settings => Apps => Apps & features , the first setting they will see is the definitions where users can buy apps. There are 2 small settings, Allow apps from the Store only ( Store apps only ), and Allow apps from anywhere (allowing apps to download from anywhere).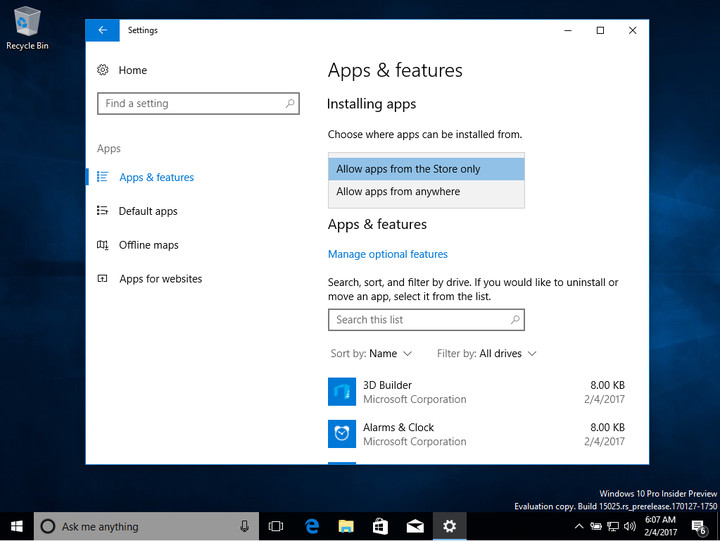 Windows 10 Cloud will allow users to install applications from outside the Windows Store.
In this specific build, the option to install applications from outside the Windows Store is not "limited", which means that no matter how many times you choose this option, there is no problem. What happens, Windows 10 Cloud has forced users to use the Windows Store.
However, this is only temporary, Microsoft is working to support applications from outside Windows Store into Windows 10 Cloud.
An earlier report said that the Windows Store application was converted from computer programs would not run on Windows 10 Cloud because it is based on the Win32 platform. This is completely inaccurate, although converted applications may be "issues" right now.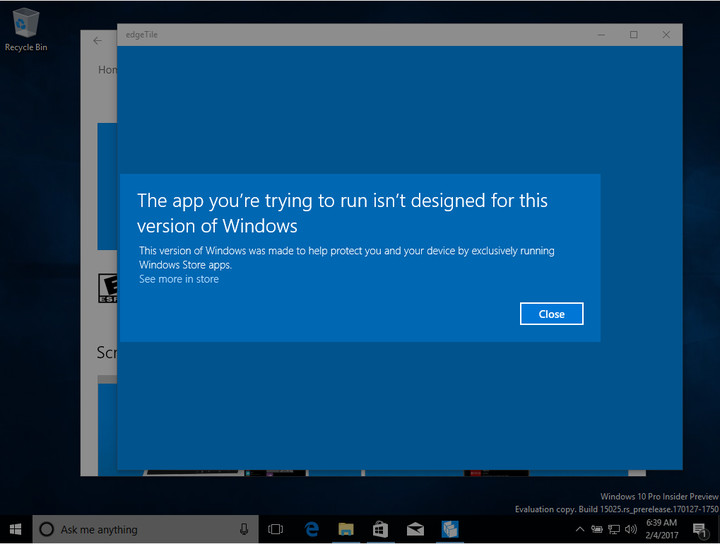 For example, EdgeTile is an application provided on Windows Store and converted using Microsoft's Desktop App Converter. The application is downloaded and installed, but Windows 10 seems to have "thrown" the application into the "deny" window during the application run. Chances are this application is a Win32 program, and Windows 10 Cloud will trigger a warning.
In the end, the most asked question is exactly how will Microsoft "treat" applications outside the Store?
The interface is quite similar
This build of Windows 10 doesn't seem to have much different from the Windows 10 Anniversary Update version. The context menu is still displayed when the user right-clicks the Start button . However there is another point that the purpose of this version of Windows 10 is "abridged".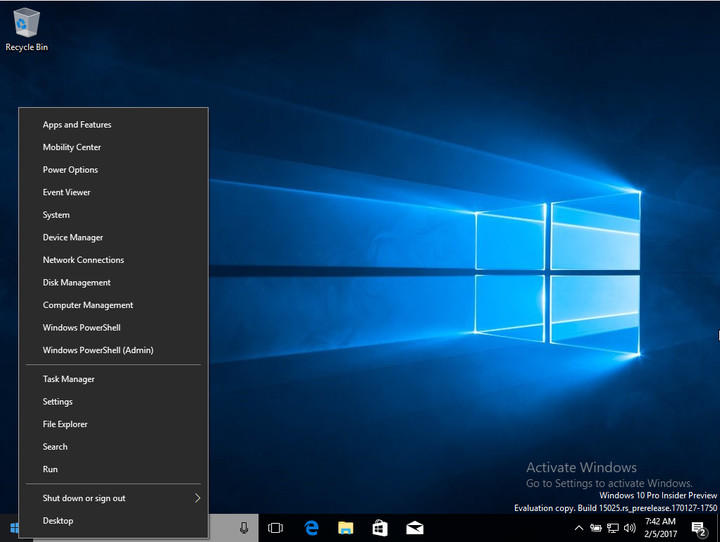 Some of the changes that you can only see on the context menu are the Control Panellink that has been replaced with the Settings application , the Command Promptrenamed Windows PowerShell, and the links to Programs and Features are replaced with Apps and Features link users to the Settings application.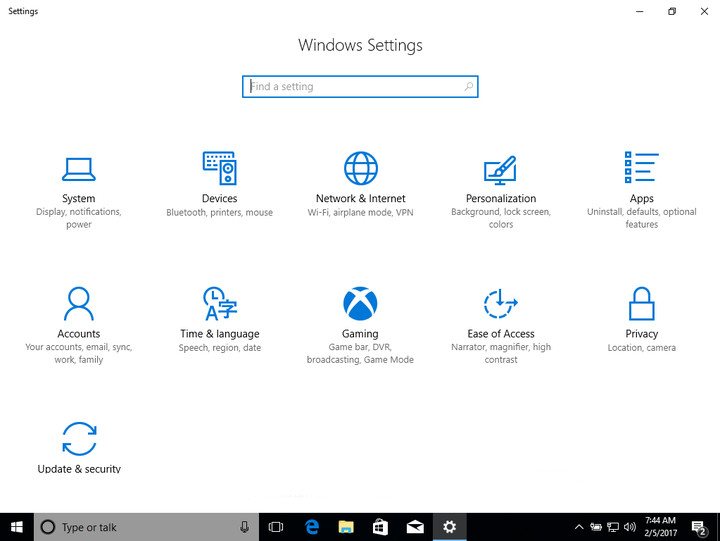 In the Settings app, there are some other points, with 2 new categories. As promised, Microsoft added the Gaming section to tweak settings for Game Bar, DVR, Broadcasting, and Game Mode.
By default this option is disabled, and according to Microsoft this feature to give users the best experience when playing games. This feature will not be a "proprietary" feature on Windows 10 Cloud but it will be an additional feature on all upcoming Windows 10 versions.
For new Apps categories in the Settings app , here's all that users can find:
Apps & features (Apps and features)

Default apps (Default app)

Offline maps 

(Offline map)

Apps for websites (Applications for websites) 

Choose the app source (Select application source)

Set app defaults (Set default app)

Download maps (Download map)

Associate specific apps with websites (Specific applications linked to websites)

Uninstall or move an app (Uninstall applications)

Contact support (Contact support)

Offline map storage location (Location of offline map storage)

Contact support (Contact support)

Contact support (Contact support)

Provide feedback (Provide feedback)

Switched metered connection on or off (Turn on or turn off limited capacity connection mode)

Provide feedback (Provide feedback)

Access the Programs and Features panel (Access the Programs and Features panel)

 

Automatic map updates (Automatic update map)

 

Provide feedback (Provide feedback)

 

Contact support (Contact support)

 
 
 

Provide feedback (provide feedback)

 
In addition, categorizing System items also has Shared Experiences section . User status descriptions can "open applications on other devices, send messages between devices and invite other users to use the application with you". Users can also access the Control Panel via Cortana or via link Programs and Features in the Settings app.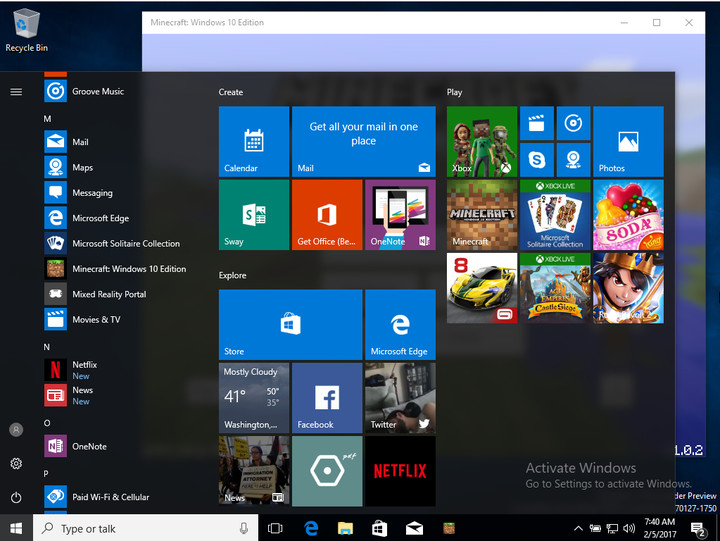 If you take a little extra care, you may notice that File Explorer has been removed from the side bar on the Start Menu. 
Conclusion
The key to this specific build is that Windows 10 Cloud is no different than Windows 10 Pro. This does not mean that Windows 10 Cloud does not have much change. This is just a build leak, so an error is inevitable. This is probably what Windows 10 Cloud will have or maybe Microsoft will remove these features in the next version.
Windows 10 Cloud may be like Microsoft's version of Windows 8 with Bing - a full version of Windows 8 with Bing is set as the default search engine, it's free for OEM to install on your device. They, and users can easily change the default settings when they want to use Google or Yahoo.
And so far, Win32 error message is still an unknown, maybe this error will be considered later. Windows 10 Cloud is expected to be released later this year.
Refer to some of the following articles:
Good luck!